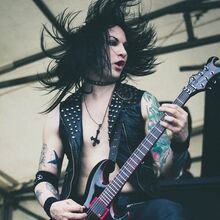 Jeremy Miles "Jinxx" Ferguson (born January 7, 1986 in Webster City, Iowa) is an American guitarist, pianist, and the violinist, rhythm guitarist, and backing vocalist of Black Veil Brides.[1]
Early Life
Edit
Jinxx lived in Webster City, Iowa. He has a half brother named Travis (from his mother's first marriage) who taught him how to play guitar. Jinxx began learning guitar at the age of two and performing on stage at the age of eight.
During school, Jinxx would often be bullied for playing the violin, which his peers believed was an instrument for girls. He would be called the "silly sausage" or "dorkestra faggot". He would teach himself compositions such as "Moonlight Sonata" during study hall and gym class. As a result of the bullying, Jinxx would hide from the others after school to avoid getting beat up and having rocks thrown at him.
Before joining Black Veil Brides, Jinxx was a member of the bands The Dreaming, Amen, Team Cybergeist, and The Drastics.
Black Veil Brides
Edit
In mid-2009, Andy Biersack was reforming Black Veil Brides in Hollywood, California. Jinxx joined the band after being contacted by him and went under his current alias "Jinxx".
Jinxx plays rhythm guitar, violin, and piano in the band. In addition, he is the backup vocalist along with Ashley Purdy. Aside from playing these instruments, he also plays the cello, keyboard, and recorder.
On Black Veil Brides' third studio album, Wretched And Divine: The Story Of The Wild Ones, Jinxx plays throughout the song Overture as a violin solo. He also plays violin in other songs, but usually does not have a solo.
Jinxx plays B.C. Rich Guitars, JR V NJ Delux, Pro X Bich, Eagle CJ Pierce, and Bich Double Neck. He also has his own famed custom Ouija Board Guitar, which was made by Evaline Guitar. Aside from guitars, he also plays the Harpsichord Piano and the violin.
Personal Life
Edit
Relationships
Edit
Jinxx has been married three times. First wife is rumored to be named Nicole and they were married in 2007.
On October 20th, 2012, Jinxx married musician and photographer Sammi Doll.
During the fall of 2013, rumors that there was cheating involved in their marriage began to spread. However, both Jinxx and Sammi denied these rumors. Shortly after, Jinxx tweeted a paragraph stating that they were going through a rough time but that everything would be back to normal soon.
on November 12, Jinxx tweeted that he discovered that Sammi was cheating and was now single. However, it's an unfair actualization of the situation because she tweeted on September 5 "you have to slap yourself for falling for it time and time again, hey Ashley Jade Morris, you can have my husband, p.s. nice tits and to the countless other girls who exchanged videos and photos with him, respect yourselves." Therefore it seems he was the one who was in the wrong here but his tweet got more attention due to his more followers.
Jinxx is currently in a relationship with Alice Mogg.
Musical Influences
Edit
Jinxx has stated that his music has a classical approach to it. He was heavily influenced by Randy Rhoads. The first guitar riff he ever learned was from Crazy Train. The United States' national anthem, the Star Spangled Banner, was the first song he ever learned. Jinxx has attempted to learn how to play the flute and trumpet. He has stated that he understands most orchestral instruments for scoring purpose.
When asked who his favorite composer was between Bach and Beethoven, Jinxx said that it depends on his mood. While he sometimes prefers the simplicity of "Aria", he also enjoys the advanced development of "The Art of Fugue". As for Beethoven, he is partial to the "Pathetique". Jinxx has said that in order to show off to a girl he would play "Romance No.2 in G".
References
Edit