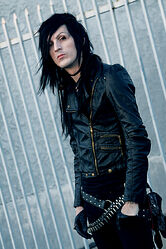 David Burton AKA Pan The Gypsy was the lead guitarist of Black Veil Brides from 2009 to 2010.
Departure
[
]
Pan, the gypsy entered the band as the primary song writer and Lead guitarist after the Ohio line-up was abandoned for the band's rebirth in California. Due to the time constraints presented by the success of "Knives and Pens", and subsequent contractual demands of the Standby records contract, many of the songs slated for the first incarnation of We Stitch These Wounds were sourced from materials written by Pan in the years preceding his addition to BVB. The rushed schedule, and Pan's demanding attitude and work ethic caused miscommunications within the evolving band structure leading to his eventual dismissal. He is said to have been credited with the discovery of bassist Ashley Purdy and drummers Sandra Alvarenga and Christian Mora, and guitarist Jinxx, who would later recruit his band mate Jake Pitts to replace Pan.
from According to the Unofficial Biography of Black Veil Brides, David got fired from the band for laziness and claiming to have written most of the material from We Stitch These Wounds.[1]
References
[
]