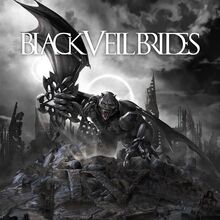 Black Veil Brides, also referred to as Black Veil Brides IV, is Black Veil Brides's fourth studio album, released through Lava Records/Universal Republic Records on October 27, 2014 and produced by Bob Rock[1]. Heart of Fire and Faithless were released as singles and were given to those who pre-ordered the album on iTunes. Clips of the songs from the album were posted on social media before release. In support of the album, Black Veil Brides held the Black Mass Tour from October 2014 to April 2015.
Release and Promotion
[
]
Black Veil Brides began pre-production of Black Veil Brides on May 7, 2014 with producer Bob Rock.[2] In an interview, Andy Biersack said that the album would be darker and heavier than their previous record. In addition, he stated that he enjoyed recording the album with Bob as he was easy to work with and allowed them work together to produce it.[3] During a listening party in September, they unveiled the artwork and tracklisting for the album.
Black Veil Brides was officially released on October 27, 2014.
Reception
[
]
Commercial Reception
[
]
In its first week, Black Veil Brides sold approximately 30,000 copies in the United States. As a result, it debuted at No. 10 on the Billboard 200 chart, making it their second album in a row to reach the Top 10. On iTunes, it was No. 1 on the Rock Chart, No. 4 on the album chart, and Top 10 in over 20 countries upon release.[4]
Critical Reception
[
]
Black Veil Brides received mixed to positive reviews upon release. Alternative Press rated it 4/5 stars, praising Andy's vocals and Jake and Jinxx's riffing and shredding.[5] James Monger from AllMusic gave it 2.5/5 stars (as did Sputnik Music[6]), stating that the album has similarities to those of certain metal bands.[7] Legendary Rock Interviews admired how each Black Veil Brides member was skilled at the instrument he played.[8]
Album Artwork
[
]
The album artwork for Black Veil Brides was designed by Richard Villa III, who designed the artwork for their three previous albums.
Track Listing
[
]
Best Buy Bonus Track:
12. Sons of Night
Personnel
[
]
Black Veil Brides
[
]
Additional Personnel
[
]
Bob Rock - production, recording, mixing
Marc LaFrance - backing vocals
David Steele - backing vocals
Angie Fisher - backing vocals
Nikki Grier - backing vocals
Tiffany Loren - backing vocals[9]
References
[
]