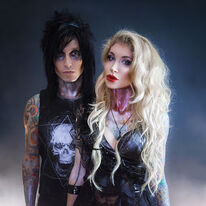 Aelonia is a band composed of Black Veil Brides lead guitarist Jake Pitts and his wife Inna Pitts, along with Márton Veress.
History
Aelonia has released one original song, The End, and covered numerous songs such as Crawling by Linkin Park, Periscope by Papa Roach, and Zombie by The Cranberries.
An album is currently in the works.
Band Members
Discography
References